​​​​**Jill is proud to be a part of the team at Freedom Functional Fitness as a Certified Personal Trainer and a Group Fitness Instructor, with certifications in Rip60 and Agatsu Kettlebell Training.
​She is also NOW ACCEPTING new clients for one-on-one Personal Training**

Jillianne Goodwin
Registered Massage Therapist
Certified Personal Trainer​​
Owner & Manager of Thrive​​
​
​Jill has been a Registered Massage Therapist since May 2006, and a
​Certified Personal Trainer since June 2007. She has made it her passion to not only help people feel better, but to show people how to

live

better.
​She has extensive experience in deep tissue massage, remedial exercise, strengthening & toning, and cardiovascular endurance. This has given
​her ​great opportunity to assist people in finding balance in a wide
​spectrum of their personal health. Her knowledge of regular stretching and flexibility, wholesome nutrition and healthy hydration has given
​​her the ability to show others the health benefits of these habits
​in equilibrium. She strives for an educated client, who walks away with the knowledge of how to improve their body's health & wellness during
​their time

between

sessions. Her focus in treatments is Deep Tissue Massage, Injury Rehabilitation, Trigger Point Therapy, Passive Stretch Therapy, and Full Body Relaxation. She is also experienced in Hot Stones and is recently certified in John F. Barnes MyoFascial Release Therapy.

​
Kristen Ritthaler
Registered Massage Therapist​
Lvl 1 Myofascial Release Therapist​
Certified Graston Technique Therapist​
​

Certified Personal Trainer
Kristen Ritthaler is a graduate from McKay Career College, finishing her program in July 2013. She is 27 years old, from Nipawin. Her passion for her career choice roots from her desire to help people feel, function, and perform better. Kristen's skills as a therapist range widely through many types of treatment, from Deep Tissue Swedish Massage, Certified Myofascial Release, Graston Tehnique, Trigger Point Therapy, Stretch Therapy, and Full Body Relaxation. She's not afraid of a challenge and is always willing to go above and beyond the expectation to see that her clients receive the best treatment possible. Kristen recently has found a strong passion in Myofascial Release Therapy after receiving her Level 1 Certification in the John F. Barnes Training course.

Kristen is also happy to have recently added Certified Personal Trainer to her resume, and is currently taking on new clients at Freedom Functional Fitness! Email her today to get started on your fitness goals: kritthaler.rmt@gmail.com
Becky O'Hara
Registered Massage Therapist
Certified in Myofascial Cupping​
Becky is a graduate of the Professional Institute of Massage Therapy. Her belief in the

natural approach

to healthcare brought her to be the passionate and enthusiastic therapist that she is. Originally growing up on a small-town Saskatchewan farm, Becky knows that success comes from hard work, dedication, and education. She shines in each of those areas when it comes to her commitment to her clients and to THRIVE Muscle Health & Wellness.
​Her skills in Massage Therapy lie in individual treatment-plan design, deep tissue therapy, and relaxation. Although her treatments are not focused on a spa-like approach, she does strongly believe in the 'zen' factor. She is confident that her skills and abilities as a professional therapist will leave each client feeling improvements physically, mentally, and emotionally.
Becky is interested in expanding her education in MyoFascial Release Therapy and Sports Massage. She also hopes to one day get her certification as a Personal Trainer. She believes that all of these areas will help her to become an even better, well-rounded therapist.​
Recently, Becky also ​completed her certification in Myofascial Cupping Therapy and is excited to offer this awesome new treatment to her clients.
(Phone Freedom Functional Fitness for inquiries or bookings in individual or group fitness: 306-384-7600)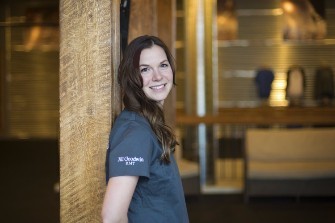 Jasmine Vaughan
Registered Massage Therapist
​
Jasmine is Cree-Metis from Muskeg Lake Cree Nation, born and raised in Saskatoon. She graduated from McKay Career Training in July 2016, and is registered with the Natural Health Practitioners of Canada. She has always had a passion for helping people, and has found a way to exercise this passion through Massage Therapy.
She works to not only relieve clients of their current pain and symptoms, but to work with them to find and alleviate the cause of it. She uses careful assessment, ​thorough treatment plans and follow-up, as well as a combination of deep tissue and relaxation techniques to provide the most beneficial treatment possible. Each client will also be provided with individual home care and remedial exercise plans to lead them comfortably and smoothly on the road to recovery.
Jasmine plans to further her education in Myofascial Release Therapy and Reflexology, and also has a strong interest in becoming a yoga instructor​ in the near future.

Thrive Muscle Health & Wellness

welcomes Jasmine to the team and believes her skills, maturity, and professionalism will be an awesome asset.